About
Kalyna Ukrainian Creations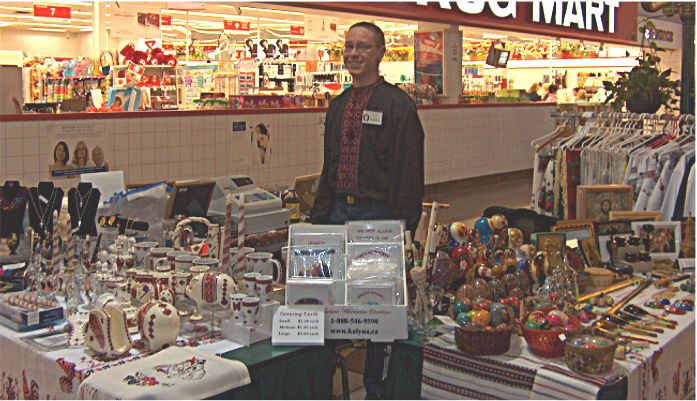 Mitchel (Kalyna's Sales Manger) will always greet you with a warm and friendly smile!
Owners: Tammy Lee, Son; Mitchel & Family
Kalyna Ukrainian Creations is a family owned and operated business with each member of the family enjoying some job so as to make Kalyna run smoothly to provide excellent quality and service.
Tammy Lee (manager) was born in Winnipeg, Manitoba, Canada and currently reside in the beautiful little town of Falkland, B.C. with her husband Brian Lee (Wood Specialist) and has three sons, Michael (Consultant & Sales), Mathew (Online Consultant) and Mitchel (Sales Manager). Located between the city of Kamloops and Vernon, their location has proved to be a real asset not having to travel far from the highway to visit their new store and less then an hour away from the larger cities.
Tammy and Brian own Majestic Log Homes Ltd. in Kamloops, B.C., she runs the Administration Dept. while Brian builds some of the most beautiful log homes in the world.
Tammy has always taken pride in her Ukrainian heritage, passing her traditions down to her sons and their friends. She spent 4 years as an Advisor in the Junior and Senior groups of The Canadian Ukrainian Youth Association in Vernon and following a short leave continues her roll as an Advisor. Following 4 years as the Treasurer for the Ukrainian Orthodox Church in Vernon , she became an appointed Trustee for 3 years and continues to serve on the Executive Board as again elected Treasurer for the Church. To add to her volunteer services of the U.O.C.C. she served two years as Vice-President of the Ukrainian Women's Association's local branch where she previously was elected for 3 years as branch Secretary. She also volunteered 3 years with a local Ukrainian Dance group (Sadok Ukrainian Dance Ensemble) as Treasurer while supporting her sons dancing.
Michael, Mathew and Mitchel have all held positions on the Executive Board of their Local CYMK and have actively taken part in all the duties associated with the group. Mitchel currently is the President of their Branch. For many years the boys have served their Priest at the Ukrainian Orthodox Church as altar servers. They have all enjoyed years of Ukrainian dance performing in many local and Provincial concerts.
Every year as a family the family continues to carol together (in both English and Ukrainian) at seniors homes and for friends and family. And now even with their newest addition to their family Braiden Mykhaylo (born June 15th, 2006), son to Michael and grandson to Tammy and Brian, the family continues to pass their culture down to their newest generation. Braiden enjoyed caroling for his first time this year and brought happiness to all he visited.
Tammy and youngest son Mitchel, volunteer many hours during the Easter season teaching Pysanky to schools, nursing homes and individuals. In 2004 they taught over 500 students how to make Pysanky while sharing it's history with their community. They continue to look forward to teaching all students old and young each and every year.
Mitchel has more than proven his ability as Kalyna's Sales Manager as he enjoys meeting customers, enjoying their stories and helping them find the right Ukrainian memento for their needs. He is always being praised for his courteous and friendly personality and everyone is sure to feel a warm welcome when dealing with him! In his spare time he is a Corporal and band member in the Sea Cadets Corp. in Vernon, works part time at a department store along with being a part of the 1st Responders in Falkland . Be sure to email him if you are not sure exactly what you are looking for, he is sure to come up with some new and wonderful ideas for you!
As a family they work together to provide excellent service and quality products to all their customers. They are very excited to bring their customers fine products imported from Ukraine and from local artists.
Tammy, Brian, Michael, Mathew and Mitchel would like to welcome everyone to browse their site and they continue to look forward to working for past/present customers and look forward to "meeting" new ones.
"It is ALWAYS our pleasure to serve you! "
---
Our Staff


As our business has grown so must our staff. Along with our family you will meet (from left to right) Marissa our very friendly salesgirl. Marissa has graduated grade 12 (and is furthering her education to become a flight attendant) she enjoys meeting new people. She is always happy to help you. Olga is our our "model", she doesn't say much but makes a perfect lady for dressing in our costumes, she is Mitchel's creation of which he is proud. Mitchel of course, is always on site to help you with all your needs. Mandi (our Ukrainian pup) has been become more popular than ever with our customers and is always there (when allowed) to give our customers a friendly kiss. Mandi also visits nursing homes in her free time and loves to dress in her Ukrainian dress.
Missing from the picture, are Karen; computer graphic designer, sales and shipping. Joanne; purchasing consultant. Bree; computer graphics designer and upcoming new artist. Amber; part-time sales.
And just a few of our very important purchasing consultants in Ukraine; Lyudmyla, Ira, Yuriy, Ira and Inna who without their expertise and help we couldn't make this possible!
Everyone feels like family at Kalyna and you will be sure to feel the same when you meet any of our staff!
**All prices in Canadian dollars.
Remember to call us toll free (at the number above) or email us for accurate pricing.**